Google Phone will be the iPhone7 Killer?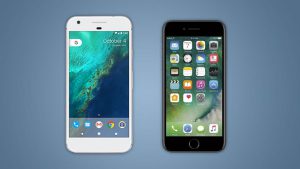 Google Phone will be the iPhone7 Killer? by Xiteb®-Award Winning Web & Mobile App Development company Sri Lanka
This is written by Xiteb®: One of the BEST Mobile Apps Development companies Sri Lanka
Which will be the First to Launch?
August begins with the news of Google's plans on releasing their Nexus devices for the year of 2016 shortly. The launcher, Android Nougat, with number of handy features will also be introduced with these new Nexus devices. Yet, no one knows which will be the first to come.
When looking into the new features of the launcher, the major is that there is no launcher icon by giving more space for the bottom line apps. This let the user to have five apps for the bottom line rather than the usual four apps. This could be considered as an effective use of space. It is notable that there are no more taps to find your list of apps and you get access for it just with an upward swipe. This seems easier for your thumb. The upward swipe is indicates through the small upward arrow in white. The other quick launch icons appear in ivory colored circles.
User Friendliness
Instead of using a search bar which you can recognize at a glance they have given a nub on the top left corner with a 'G' icon where you can open up the option to search. Home screen will basically contain only with the permanent nub and the calendar widget (located on the opposite of the nub).
With a swipe to the right you get access to Google Now even though there is nothing can be done through it. Based on Android Police the aforesaid launcher was not working on the devices using the upcoming launcher, Android Nougat. Thereby some of the features were not functioning as expected. Thus we can presume a firm incorporation with Google Assistant.
Google phone will be a great and a direct threat to iPhone7.
by Xiteb®: One of the BEST Mobile Apps Development companies Sri Lanka