Internet Predators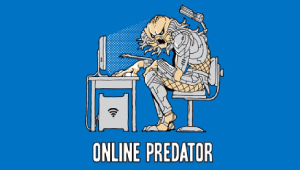 Internet Predators also known as online predators are adult online users who seek to exploit vulnerable children or adolescents for abusive purposes. They are sexual predators who use the internet to get information and to communicate, locate, target and victimize minors.
In the 21st century where the internet is open to anyone & everyone, people talk endlessly about the multiple advantages of it. Its information producing, entertainment, communication, and other marvelous facilities, but often neglect its threats, vulnerabilities and harmful consequences.
The subject of Internet predators is not majorly spoken of because most victims are children & teens. They don't have the courage to voice out the fact that they are in trouble. Therefore it is the responsibility of parents and adults, to closely observe their children & youngsters and their behaviors.
Not only adults, even the younger generation should be notified as to,
How to identify internet predators.
Online predators are friendly, outgoing and very innocent at first.
They will show signs of care and concern towards the victims. This step is to gain the victim's trust. They'll even show interest towards their victim's likes.
Once they establish trust privacy and secrecy comes next. They'll manipulate the victim to think of their friendship as a secret. This is to avoid the victim's adults getting to know about the predator & their relationship.
After sometime predators will be inquisitive of knowing personal information about their victims. Like where they live, where they school, who they live with etc.
Next, they will show signs of wanting to meet their victims. If the victim is hesitant they will try to pressure for a meetup despite the victim being uncomfortable about it.
There are times the predator is someone the victim closely associates or even a relative. Thus it is very important to be alert and know,
How to avoid predators & their trouble.
Parents should maintain a close relationship with their kid. This will reduce the child's need to seek attention from strangers and the chances of them hiding things from parents.
Set boundaries and restrictions. Limit their usage.
Make sure they don't delete the history.
Parents can install security software and run security scans regularly.
Check their computers / mobile phones.
Contact CyberTipline or the local authorities if such activities are recognized.
Connecting predators & victims.
Some parents assume that, their kids are at home or that they are not sent our often therefore, there is no such threat. But victims don't meet their predators physically. At first, they meet them online.
Internet through what?
Through portals that attract children, like, internet forums, video game consoles, chat rooms, facebook groups & other social media sites.
Parents and adults should be more aware of internet predators and their actions. Internet-facilitated sex crimes against minors should be brought to an end. In the end, it is the victims that end up as predators in the future. Minimizing future predators will provide a safer internet environment for future generations. Therefore do not be hesitant to take action upon such activities that may violate anyone's personality or life.