The most awaited moment has finally arrived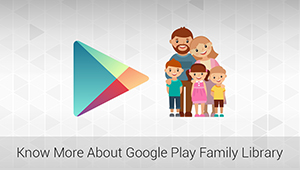 The most awaited moment has finally arrived for all the Android users. 'Google Play Family Library' has been launched. This could be the best way for you to share the entertainment among your family members or fiends. Now you can select as your family in Google.
You can purchase the apps, games, movies, TV shows or even books. They are entitled via Play Store, Google's app or a media store with only a single payment by saving your dollars. Thereby this could be introduced as an extended version of 'Google Play Music Family Plan'.
With the details of one credit card as default, a family can enjoy sharing even though each of them has given the option to purchase what they want with their own electronic payment mode.
The person who purchases the app has given the choice on what to share with others and what to keep for himself. This helps you on your privacy and lets you to decide the sharing in a timely manner. You can share them through laptops, phones & tabs. The other important thing is that the parents can have a control on the purchases which their kids do under their approval.
Google Play Family Library is a similar application to the product introduced by Apple, 'Family Sharing', for iPhone customers two years ago.
With the two apps developed by Google Play Family Library for the iOS users, they have extended their customer base. This App is accessible for some of the countries in the European region and Asia, North and South America and Austral-Asia by 27th of July and would spread in the world rapidly.