Xiteb is committed to bringing exceptional digital transformation through innovative mobile and web solutions: Dr. Dhanesh R. Jayathilaka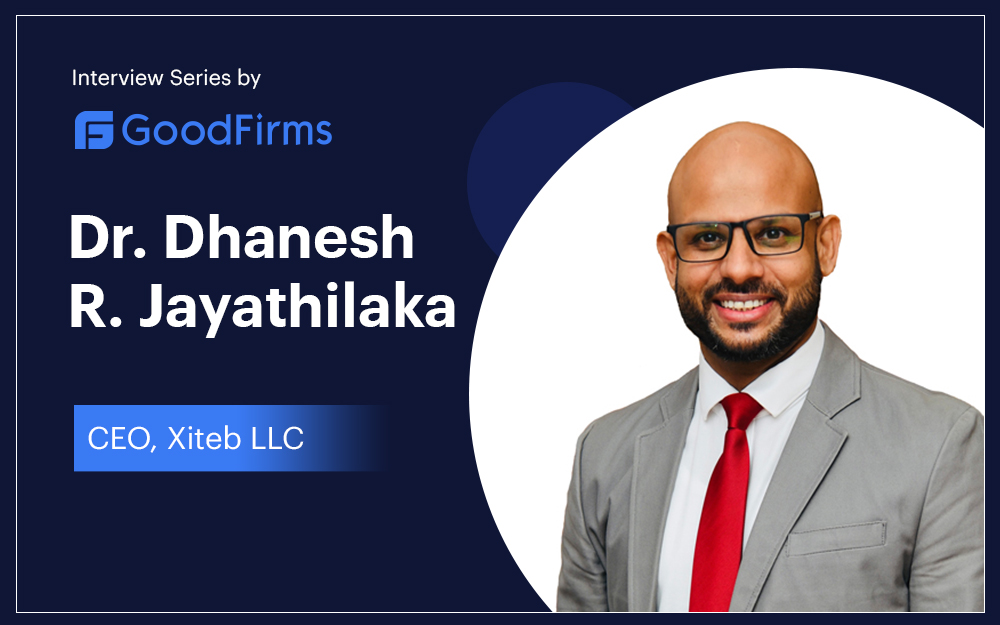 Xiteb LLC specializes in providing digital solutions on a global scale. The company established marketing offices in the United States and the United Kingdom, with technical expertise in Sri Lanka. This article by GoodFirms aims to highlight the successful journey traveled by the CEO of Xiteb LLC – Dr. Dhanesh R. Jayathilaka.
Xiteb LLC is a leading provider of various solutions, from software development and design to search engine optimization and marketing globally. As marketing masters in the UK and USA, they have delivered various successful projects which allowed their clients to reach new digital business heights and earn brand values.
The company has highly experienced and skilled IT professionals and marketing experts who focus on client relationship management that helps build trust and confidence in their clients across the globe.
Moreover, their strong presence with talented tech professionals in Sri Lanka allows them to supply cutting-edge technology and innovative software solutions by following an industry's best practices helping to deliver extraordinary results that exceed their client's expectations.The GoodFirms team interviewed Dr. Dhanesh R. Jayathilaka, Xiteb LLC's CEO, to learn more about the company and its values.
What's the story behind starting Xiteb LLC? And please provide a brief information about the company and your role.
Innovation in the online world became necessary to create exceptional experiences for internet users and add value to businesses. Online solutions require a more experienced and innovative mindset, which helps companies to grow with maximum efficiency. Xited was founded in 2010 to deliver the best-in-class and cost-effective digital products.
As the CEO of Xiteb, I create new and exciting business ventures to add diversified clientele to the company and reach new heights no matter what challenges come. I inspire people in the industry to strive for more creativity and innovation. With comprehensive research and analysis, I have learned the importance of digital solutions for businesses to scale successfully in today's most challenging and competitive environment. The company has skilled and experienced professionals passionate about technology and out-of-the-box ideas that convert into reality through implementing result-oriented innovative digital solutions. We are specialized in providing cutting-edge technology-based Android and iOS applications, custom software development, eCommerce development, SEO/SEM, and web design solutions for our clients globally.

What's the business model of Xiteb, and how is your company distinguished from its competitors?
Xiteb's business model is based on an in-house team of tech experts, software engineers, UI/UX designers, quality assurance(QA) professionals, search engine optimization (SEO) specialists, and dedicated project managers. Our IT professionals have all the abilities and capabilities to handle complex projects for diversified clients globally.
We offer excellent partnership by following a strategic approach towards software development, and the in-house team has years of experience and technical expertise that add value to every project and provide client satisfaction.
Furthermore, this in-house team provides greater control, flexibility, and efficiency while working on the project with access to essential resources. The team believes that such a working environment enhances the quality of the product and the productivity that satisfies our clients. Our company has a stellar IT industry reputation for maintaining excellent service records and providing customer satisfaction. Xiteb has achieved recognition and the Bizz Award USA for extraordinary performance and business excellence.

The client reviews below to clarify how Xiteb works with its clients and satisfies them with unmatched quality work!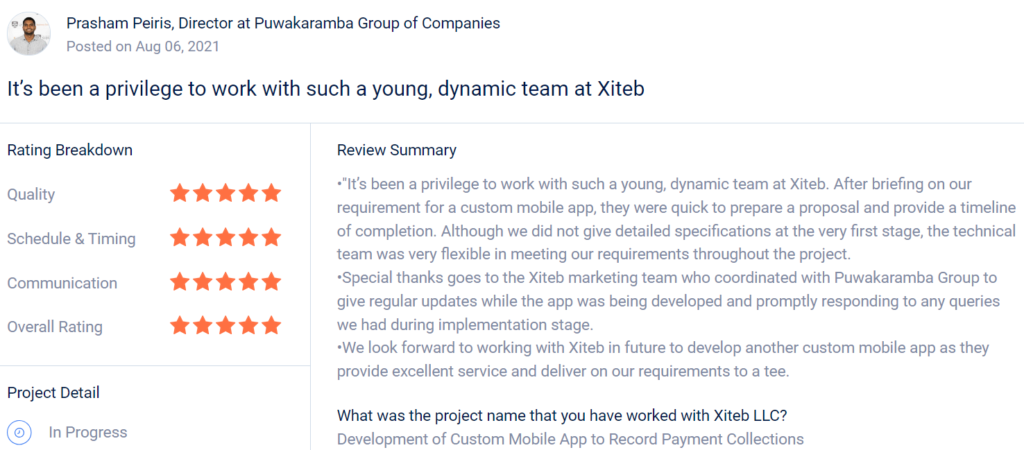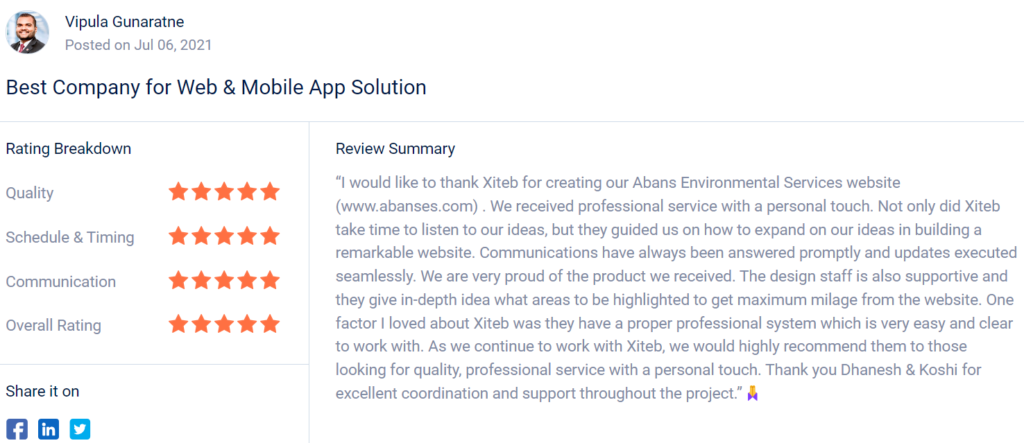 Click for more reviews.
GoodFirms' reviewers and researchers have recognized Xiteb LLC as one of the most innovative and creative mobile app solutions providers and awarded them as one of the Top Android app development companies in Sri Lanka.
Excellent Services And Industries Network With Satisfactory Customer Support that Xiteb Offers To Their Clients!
Xiteb provides a wide range of services that perform as per the client's business needs, such as a custom software solution, mobile application, eCommerce development, UI/UX design, web application development, digital marketing, SEO/SEM, and IT consulting. One of their specialties is mobile app development based on iOS & Android and hybrid mobile apps with exceptional user experience.
The company has highly experienced and skilled mobile app developers who focus on simplicity and sophistication, which is essential for a better user experience and improves the brand identity by providing a hassle-free interface to consumers, especially in the eCommerce industry.
Industries that Xiteb excels in
E-commerce and Retail
Finance and Banking
Healthcare and Medical
Education and E-learning
Travel and Hospitality
Xiteb offers value-added customer support:
Dedicated Support Team:
Communication Channels
Service Level Agreements (SLAs)
Knowledge Base and FAQs
Regular Updates and Notifications

Please Share the Company's Payment Structure With Basic Budget requirements.
We follow a milestone-based model that is divided into three milestones as described below,
25% advance payment at the initial stage of the project
50% payment at starting of the development phase
25% upon completion of the project & 25% remaining payment is invoiced
Regarding budget requirements, we are flexible with our clients by understanding their basic business requirements and providing them with the most valued-for-money solutions. There are different prices for different types of projects, as mentioned here:
Starts from USD 3999 – Software development for mobile applications
Starts from USD 3999 – eCommerce development
At Xiteb, our team ensures that the quality of the product is not compromised and provides complete assistance when the client chooses the right solution that can add value to the business with cost-effectiveness and excellent performance.
What was the minimum and maximum price range of the project your company delivered in 2022?
This is a confidential section where we take seriously and sincerely the project's confidentiality, which builds trust and confidence in our clients globally. The critical aspect is that every project has different requirements, so it's pricing. Therefore, We focus on delivering requests with value through an attention-to-detail approach no matter how small the project is!

Lastly, Dr. Dhanesh has revealed on company's vision for the coming ten years,
the company will deliver more cost-effective and top-notch software solutions to the industry in the coming ten years and inspire professionals to join our organization globally. We are experts in various cutting-edge technologies like AL, ML, blockchain, cloud computing, and IoT to bring revolutionary transformation into our client's businesses. We will continue to deliver the same in the future.
You can also go through this detailed interview on GoodFirms.
About GoodFirms
Washington, D.C.-based GoodFirms is an innovative B2B Research and Reviews Company that extensively combes the market to find business services agencies amongst many other technology firms that offer the best services to their customers. GoodFirms' extensive research process ranks the companies, boosts their online reputation, and helps service seekers pick the right technology partner that meets their business needs.
About the Author
As a Content Writer at GoodFirms, Anna Stark bridges the gap between service seekers and providers. Anna's dominant role is to figure out company achievements and critical attributes and put them into words. She strongly believes in the charm of words and leverages new approaches that work, including new concepts that enhance the firm's identity.