Importance of social media in marketing.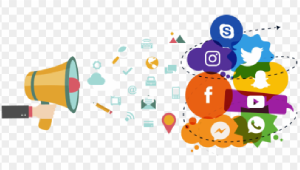 Social media has become one of the game-changing phenomena in communication in the 21st century. It has been enabled by the number of internet users growing from its initial moderate low millions to more recently low billions.
How is Social media favorable in the business perspective?
Social media is rapidly becoming one of the most important elements of digital marketing. It provides incredible benefits that help to reach millions of customers worldwide.
If a business is not applying for this profitable source, it is missing out on an incredible marketing opportunity, as social media enables to spread the word about a business.
A few advantages in marketing your business through social media.
It's Cost-effective
Social media is the most cost-effective way of promoting a business / brand name. The simple procedure is creating an account and signing up for free ( as for almost all social networking platforms). Social media is a crucial part of business marketing, but it doesn't have to be stressful to manage. Take the first step, create a profile, and start engaging with your customers.
Creates customer interaction
In this century almost all people engage through social media. Why not use it for your business as well? Using social media marketing enables you to connect with your potential customers. This would give your customers the ability to connect with you as well. Moreover, communication and engagement with customers, through social media is one of the ways to win their attention and convey the brand message. The brand will gather more audience in real terms and will establish within no time.
Brand authority
Brand loyalty and customer satisfaction play major roles when building a powerful business. Unlike other methods of advertising, social media is quicker in connecting the business and the customer. Thus interacting with your customers regularly proves that they matter to your business and that they are valuable. Once you've earned satisfied customers, who are vocal about their positive purchase experience, you can let the advertising be done for you by genuine customers who appreciate your product or service.
Enhances SEO ranking
Social media presence is a vital factor in terms of SEO ranking. Simply optimizing a website or regularly updating a blog doesn't provide a successful SEO ranking. Business content being shared on social media is a way of sending brand signals and attaining brand validity, integrity, and constancy.
When a business is active on social media, it communicates that the business / brand is active and focused.
Social media is, without a doubt the best marketing solution for startups and established brands. By regularly updating and changing the social media marketing strategy, you'll be able to increase traffic, improve SEO ranking & brand loyalty, build up a strong competition and most importantly provide healthier customer satisfaction.
Don't wait till its too late. Don't let your competitors take your probable customers away from you.