End of another Battle in Mobility Market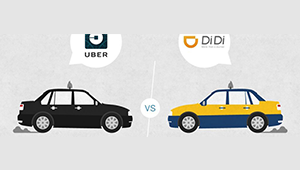 According to Bloomberg, processes of Uber's cab services are about to alliance with Didi Chuxing which is another rival.
Didi Chuxing would spend $ 1 billion for the merge with Uber, which is worth $ 68 billion. Ultimate value of the merged unit will be $ 35 billion. Further it has been reported the ride-hailing has been permitted in China, by law end of July 2016. Ride-hailing is becoming popular in many countries and but yet it's emerging due to its inherent limitations. According to a recent research done in USA by Forbes, it is evident that awareness of Ride-hailing, popularity and usage of Ride-hailing apps are not up to the expected level.
The amount of $ 2 billion bore by Uber to take the lead in the industry could be recovered through the merge. On the other hand Didi Chuxing has reduced a competitor which they have fought, with the investments of Apple & by unifying with some other cab service providers. The Chinese customers got access to travel amongst India, Southeast Asia and the States with the app of Didi Chuxing. Thereby they may set the trends in the industry with the new venture and will be the leader in the mobility market.
Toyota Motors Is Partnering With Uber
Moreover, Toyota Motors recently announced that its decision of strategic investing on Uber to be its ride sharing partner. This clearly shows the emerging nature of ride sharing and the popularity of Uber. Selecting Uber to be Toyota's 'ride sharing' partner appears to be a precise choice and a timely decision by the company according many key stakeholders. Uber's wide geographical network would not doubt take both companies to its desired destination while adding value to its clients.
With further news on Uber & Didi Chuxing, this could bring up to date.
by Dhanesh R. Jayathilaka
Mobility Market Trends…