SLT Zero One Awards – Best Website/Microsite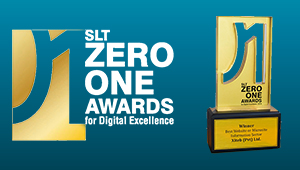 Xiteb (Pvt) Ltd, a multi-national web design company in Sri lanka, was honoured with the 'Best Website/Microsite' award in the Information Technology Sector at the prestigious 'SLT Zero One Awards 2017'. Qualifying for this award was no cake walk for Xiteb (Pvt) Ltd. The immense support of our teammates and the support of many other parties, brought Xiteb's dream to a reality.
With the desire of bringing recognition to the company Xiteb wanted to be a part of this national competition. But our recently revamped most outstanding website, motivated us the more, towards the participation.
Our Journey
We started our revamping journey by analyzing number of websites which were created under different concepts. The analysis was done, to find out about the recent trends which could be followed. Our concepts consisted of multiple features & functions, animations, a brand cylinder a, moving map concept together with the water effect. For the final website we have used a combination of design ideas to make it more elegant.
The Development process.
Once we finalized the combined concepts, we started on our most time-consuming 2nd step. That is developing the website. This step involved most of our developers, content writes and SEO specialists.
Using the most recent technology, our developers produced a cutting edge, most unique and user-friendly website. We implemented the theme 'nature', with the motive of extending our reach to the world, rather than limiting it to Sri Lanka. Abiding by a flat color range and Xiteb's theme colors, we finally delivered a responsive, issue free, Quality Assured, attractive site.
We did it!
Not only did Xiteb aim on the appearance of the site, but also had the intent of achieving our expected SEO hit rate. And so we did. One of the most unforgettable achievements for Xiteb. With our excellence in SEO performance, we managed to optimize our site to the first page with different keyword searches in different browsers.
We did not limit our rocketing hit rate, only to Sri lanka. But expanded it to Australia, Italy, Russia & many other countries in European region. Again, this was an exciting achievement for us.
Through our website, we were able to express to our clients the quality of our capabilities, even before they received services from us.
Xiteb developed a 'Contact Us' platform as well. Now all our visitors can get in touch with us, from all around the world.
Bringing home the award for Best Website/Microsite'.
Not only did we attract more visitors, but also increased our team spirit, togetherness and assiduity while working on our very own website.
Xiteb's Chief Operating Officer Mr. Dhanesh R Jayathilaka, receiving the award of Best Website/Microsite in the Information Technology section at SLT Zero One Awards Ceremony 2017.
Thus Xiteb's tiresome journey brought glory upon the company.
Xiteb one of the most outstanding web solutions company in Sri Lanka brought home the award for, Best Website/Microsite in the Information Technology section at the SLT Zero One awards 2017.