Why have a Maintenance Agreement for Your Website?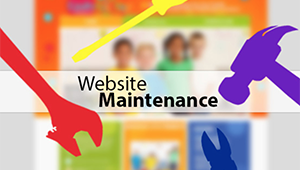 This is a very common question directed by almost all the clients of web solution companies.
Let us brief this out step by step.
A web development company is an organization that undertakes projects to develop and produce web & software solutions. The web development process includes web designing, web content developing, client-side/server-side scripting, network security configuring etc.
Once the solution is provided, the solutions provider has a responsibility to maintain the website, in order to make sure the website is up & running, which assures the website is free of issues.
Why maintain?
The real question is why is maintenance so important?
A well-maintained website,
Assures that the website receives proper attention at any time a bug/error comes up
Updates regularly
Attracts new customers
Magnifies the level of interest in the existing customers
Gives a higher search-engine ranking
Reflects the organization's corporate identity
and provides many other advantages that provides a recognition to the organization.
Thus it is important to have a well-maintained website. A neglected website will have broken links, dead pages, unresponsive pages, low-resolution images and will also be slow when loading, which would massively contribute in diminishing the number of their existing customers.
Therefore let's not diminish the number the of customers who visit your website. Let's have a well-maintained website!
Why sign a maintenance agreement?
Once an agreement is signed, a legal attachment is established between the client and the maintenance company. An agreement is beneficial for the maintainer, because it provides them the security that they are working for a professional business that has clearly defined its commitments and agreement on all terms of employment.
Hence in addition to the points highlighted above, the client will receive the below benefits.
Provided with skilled workers to work on their website.
Responsibility of the code is solely taken by the web solutions provider.
According to the maintenance agreement, the web solutions provider takes frequent QA tests to maintain the well-being of the website.
And many other benefits are offered by Xiteb, as a web solutions provider, which you would be aware of once the agreement is presented.
Why NOT pick a different company for maintenance?
No matter who has developed the website, Xiteb has a skilled technical team to take up your website maintenance. This is not stated merely for our benefit, but for the benefit of the client as well. Therefore it is always better to have us on top of your list, if you are in need of website maintenance.
As a multi-national web & software solutions providing company, our genuine objective is to minimize the number of dysfunctional websites as much as possible. Therefore, do help us in achieving this goal.
If you own a website, and are not bound to a maintenance agreement, Do not hesitate to contact us. hello@xiteb.com