Black Pearl Charcoal Web Design & Development: Case study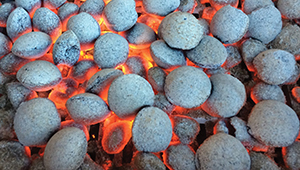 The Best Charcoal suppliers Sri Lanka
Black Pearl Charcoal is one of the biggest Charcoal exporters in Sri Lanka. As an ambitious Charcoal exporting brand which constantly keeps expanding to new horizons, needed a new look to expand the horizon to the international arena. The Web & Mobile apps development company, Xiteb® managed to deliver providing a 100% client satisfaction as Xiteb® was Black Pearl Charcoal's most trusted web designer.
Here describes how we at Xiteb®, redesigned the website, clearing the web designing roadblocks which kept them from achieving their business goals.
Solution
After gathering, all the necessary information from our client in meetings & over the phone at the client's briefing sessions by the Business Analysts, we arranged a meeting with many internal & external content writers who have the industry knowledge to fine-tune the given text content to be on par with European websites.
With our years of cumulative experience in the industry, our team took no time to come up with a brand new sensational design that capable of delivering the feel of the products and reflecting the brand itself.
While our web development team worked on the coding with HTML and the framework using bootstrap, two of our web designers were busy creating an easy to navigate look which is modern, fresh and mobile friendly.
Team 'X' & Team Work
Together Xiteb® was able to come up with a new layout for the website in cooperating appealing graphics and smoke and ParallelX effects to grab the attention of the right potential clients and give visitors the access to the product range easily, while showcasing the reputability and authority of the brand in the industry.
Rotating cylinder of brands which enhances the reputation and experience in the industry is a feature we have added to the website with our client's special request. The feature was introduced on a website for the first time in Sri Lanka which one of Xiteb®'s best innovative concepts.
After undergoing some amendments including the Brand cylinder feature, Xiteb able to deliver a brand new look for the Black Pearl Charcoal's website, enabling them to reach new heights attracting new and more clients through internet marketing, strengthening their online presence with a unique, creative and innovative web design.
As an experienced web designer, with an incredible team of creative minds and technical brains, Xiteb scored another happy client, proving the flexibility, creativity, innovativeness and commitment to go an extra mile to deliver the exact expectation of their clients in a timely manner.
SEO
Moreover, anyone searches the key words 'Charcoal Sri Lanka' or ' Charcoal suppliers Sri Lanka' on Google, Black Pearl Charcoal comes to the first page of Google search result. Moreover, Black Charcoal, Charcoal, Charcoal suppliers Sri Lanka and web designer are the targeted key words.
Results
Now, Black Pearl Charcoal is attracting more clients through their new website while showcasing their reputation and high-quality service to the whole world, standing out from the crowd as a unique brand who is serious about their business.
I love working with Shasanka & your team . Looking forward to develop our main site too. Nalin Nagahawatta- The Managing Director- Black Pearl Charcoal (www.blackpearlcharcoal.com)
Do you have a project in your mind you are looking for a web designer? We would love to hear about your ideas and share ours. Contact us today and see how we can help you. Email: hello@xiteb.com
Key Words: Black Charcoal, Charcoal, Charcoal suppliers Sri Lanka, web designer