LB Finance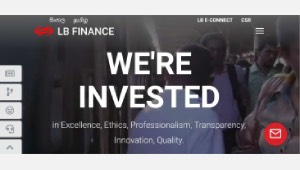 LB Finance PLC one of the well recognized licensed finance companies in Sri lanka, was incorporated in the year 1971 as a private limited liability company. It was eventually converted to a public limited liability company in 1982, was listed on the Colombo Stock Exchange in the year 1998 and was re-registered in June 2008.
The company stands among the top three of our valued customers. We have been LB Finance's trusted, long-serving service provider for the past 8 years.
Our client first contacted us in the year 2011 to develop their website. And Xiteb has been providing web development services since then.
In 2011, LB finance gave their first brief to Xiteb. In the year 2012, we developed and launched the site. Apart from developing LB's main site, Xiteb has provided other web solutions as well, thus which makes the bond stronger.
LB needed revamping once again after 7 years, and Xiteb successfully launched the newly revamped website as well, in June 2019.
Website development.
It was great working with LB Finance, throughout these years. As our usual process, our designing team came up with several ideas for the website. Our client approved the best. Thereafter our long experienced developers started on the frontend & backend development.
This was somewhat time-consuming since LB wanted its site to be a fully custom website. After the completion of the development, our SEO team buckled up and did their best to optimize the website to the top. Our business analysts constantly kept our client updated about the progress of the project, and methodically handled the project till the end. The site is now up and running for any customer who is need of any cash assistants https://www.lbfinance.com.
About LB Finance
The well known Finance company facilitates their customers with premier services of LB Leasing, Gold Loans, Fixed Deposits, Savings Accounts, Rent a car, Money Exchange & Mortgage Loans. Their Head office is located in Colombo and the rest of the five main branches around Sri lanka.
You can get in touch with LB for any of your cash needs, whether it be buying a new house or a vehicle, saving up for yourself or your child or even if you are in need of urgent cash. LB is ready to offer their best services to their customers
Other web and mobile related solutions handled by Xiteb.
It has been great working with LB finance for eight long years. The Assistant General Manager of LB finance Mr. Chethana Kahandugoda expressed his pleasure of doing business with Xiteb and it is indeed a great strength for us. "Xiteb Designs are world-class and trendy, technology is their key competency. It was an experience to work with such a Friendly and professional Team." We look forward to work hand in hand for more years to come and to provide the best solutions for LB's web & mobile needs.