How much do you charge to develop a website?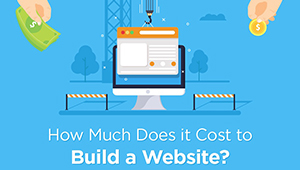 It is a common question clients asked when it comes to developing websites, mobile apps & many other IT related solutions, which is very difficult to answer. That is How much do you charge to develop a website? For instance; if you ask from an architect, how much will it cost to build a house what would be their answer? They will ask, many questions to provide you with an answer which is no different to a website or any other IT solution.
Without knowing the exact number of pages you need for the website (number of stores / rooms you need for the house), the features & functions of the website (how the doors/ windows will appear), what platform to be used for the development? (materials to be used to build the house) how can a web solutions provider quote you a price? If someone is asking how much do you charge to develop a website, how can you come up with an answer, without knowing these things.
Team allocation & the Quality of the project
Hence, with the budget client provides, we will be able to determine what level of expertise should be allocated to develop the web solution. If the budget is of premium level, we would allocate the best team with the most experience. And for a lesser budget we would be able to allocate the team with the medium level of expertise. We doesn't necessarily indicate that there is a difference of the quality of work. All the projects completed will go through the same process for Quality Assurance (QA) tests carried out. Therefore the final result will be of the same standard, which the client doesn't need to worry about.
To make it much easier as the web solutions provider, we ask one simple question "what is your budget for the project?" As long as you can answer this question, web solutions provider can give you a more precise answer with what can be done under your budget.
This is very supportive for the solutions provider to think of which platform to be used for the development. For instance;
Cost/charge to develop a website
100% custom development (Bespoke) – Premium Pricing
100% template development (less/no customization once the design is selected) – Most economic pricing
Semi – custom (semi-template) – Medium Pricing (Note: a bit complex)
Also platform/languages to develop a website would be;
Basic HTML website
Word Press
Joomla
PHP
Magento etc.
Note: HTML will be used in almost all platforms.
Exposing your budget will lead the solutions provider to suggest you the best solution by saving both your money & time unnecessarily. If you have only a budget of USD 500/- solutions provider will not suggest a Custom (bespoke) design with number of features with room for future expansions. This leads both the parties to a win-win situation.
Problems we face when asking for Client's budget
Most of the people will provide a budget idea to the architect before commencing to build their house, but not willing to do so when it comes to a website.
This could happen due to two reasons;
Where the client have no idea on spending for the website or,
When client provides his affordable budget, they assume the service provider will quote for the whole budget even if the requirement is too small.
It is doubtful that clients have no budget in their mind to develop a website, however it is good to do some research before meeting a web solutions provider to have a rough idea about how much it will cost for you to develop the desired web solution.
It is better to consider much about the quality than charge to develop a website..
How to decide your budget?
If you are the only dressmaker of a particular area, you already have the total customer base of the town. Even a template can be used for this type of business to make the whole process cost effective. There will be no need to develop a high-tech website for you unless you plan on selling readymade clothes online.
If the market you operate is highly competitive, then you should have a website to generate more leads, backend to maintain all the leads & it should have many functions & features which should be capable enough to expand in the future. In such situations we encourage to go either with a fully or semi-custom design. However if you pick a larger company to develop your website, it will be costly as they have lots of employees & overheads to cover.
But we are a small-scale company, where you can get your main revenue generating source- website- developed even within a budget of USD 2,000- USD 3,000 if it is a custom design. As long as you can provide your possible investment together with the requirement, we can match your requirement with the budget. We can start from a basic informative site (Home, About us, Products/Services, Photo gallery, Contact us) starting from USD 298 + Shopping carts & logins + payment gateway/s + SMS gateway, etc.
To conclude, your budget helps us to recommend you 1 out of the 3 methods used to develop websites (Custom, Template, Semi-custom) or mobile apps (Native, Hybrid or Cross Platform) according to the scope of the requirement.
Please keep in touch with us on +94 72 799 7711 for any inquiry on web developments or hello@xiteb.com.