Importance of a website for your business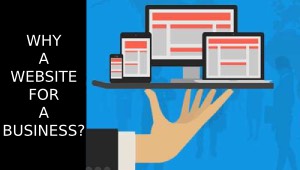 Website is the Face of your Business.


~Dhanesh R. Jayathilaka | CEO of Xiteb PVT Ltd ~
When web development companies often approach businesses and suggest them to maintain a website, they don't show much interest in the idea. This is because they are unaware of the importance of a website.
WHY MAINTAIN A WEBSITE FOR YOUR BUSINESS?
Website is called the face of your business because your website is what is used by anyone and everyone to recognize or judge or hire you. The only medium which external parties use to understand the quality of your products & services. A website gives recognition to your business among digital customers. In a world where everything is becoming digital, it is advantageous for a business to maintain their own business website due to the reasons pointed out below.
The company that doesn't have a website is losing many opportunities for the business. A website is a whole package of marketing. Competitors in the market will know your standards through your website. Your customers will get to you through your website. A website has a wider reach than any other form of advertising or marketing. Because it has no limitations. Anyone anywhere in the world can find you online at any time if you have a website.
Populating your website and generating traffic is a different set of services provided through SEO & SEM. In order to receive these services, one has to first, develop their business face.
Increasing number of Digital customers.
According to research conducted by J. Clement, stats state that the number of digital customers has reached up to 1.79 billion in the year 2018.
The expected amount of digital customers in the year 2021 is 2.14 billion. Here is why your business has to maintain a website. If not you will be missing on all the digital customers.
Website is the best way to engage with prospective customers
A website will make it easy for customers to share your business.
With a simple link the whole word can instantly check your,
business profile
ortofolio
clientele & even the testimonials provided by previous clients.
If the social media platforms are also be linked to the website, this will give the visitor easy access to your social media accounts, which is as important as maintaining a website. Read more about the Importance of Social Media Marketing.
Cost effective.
Of course, developing a website might seem costly as the development is done during a short period of time. A quality website is used for at least 4 years ahead. This is an important and practical concept that many businesses don't understand. A website is one of the most long-standing & cost-effective marketing strategies a business could have.
Helps in business growth.
A store that maintains an e-commerce website can generate more sales than a store that doesn't have an e-commerce site but has a physical store alone. The business with the e-commerce site could even attract international customers and increase their sales.
Customer convenience.
From the visitors' point of view, all they need is an internet-accessible device with internet. With these facilities they could easily access your website.
Customers can avoid trips to visit stores or showrooms which are time-consuming and quite costly. Visitors could simply refer to the website.
All time & any time availability.
Even without human interaction your website is available. Potential customers can view your business while your physical store is already close. All they need to do is open your website and browse away even when you are ASLEEP!
Beat your competitors online.
Your website helps you to beat your competitors. Being on top of the search results and being active on Social media attracts and maximizes the number of customers for your business.
Thus the maximization of customers will result in generating
Most importantly a business website helps establish credibility of the business in the customers. It proves its transparency and stability of your business.
A business that doesn't have a website will lose many business opportunities
Develop & maintain a website for your business. Build your business reputation. Because once it is built it cannot be easily tarnished by other businesses. Maintaining a website leaves a good impression on any business. The more professional your website is, the more advantages you can gain.
Know the Importance of a website!
Once you realize how important a website is for a business, your next step is to pick the ideal web development company to develop your website. You can get insights on this by reading our own – Select the right web development company for your business.